Anthem Hayek Blanchard, CEO at Hercules SEZC, Will Discuss Public Decentralized Blockchain Ledger at the Blockchain & Bitcoin Conference Australia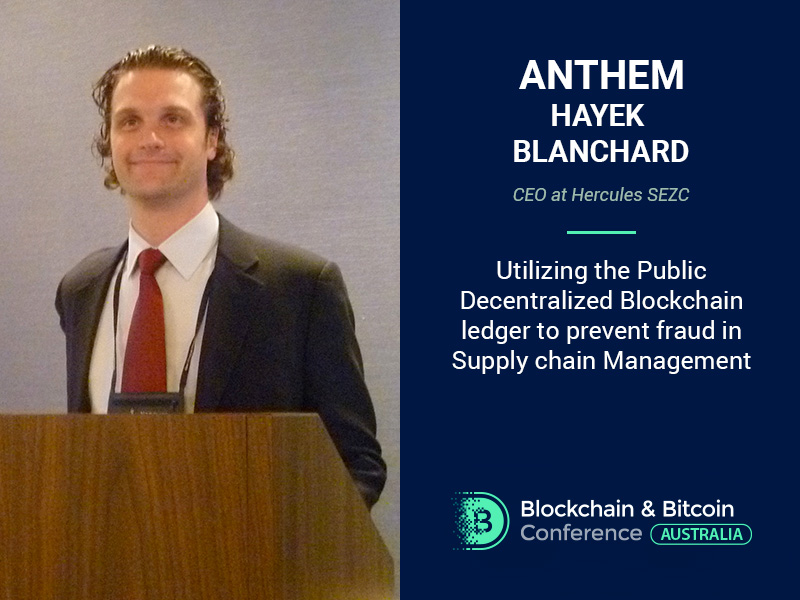 Anthem Hayek Blanchard, a chief executive officer at Hercules SEZC, will give a presentation on the Blockchain & Bitcoin Conference Australia on May 29.
Anthem Hayek Blanchard is an expert in enabling easy use of physical fungible goods as currency, using blockchain technology. The speaker is also a co-founder of AnthemGold Inc. The company is a creator of a gold-backed cryptocurrency which gives a possibility to securely store, buy and sell gold. The company is also planning to expand their expertise to silver and other precious metals.
Hercules SEZC is a supply chain public blockchain software.
The main topic of the speech will be Utilizing the Public Decentralized Blockchain ledger to prevent fraud in supply chain management.
The use of blockchain in supply chain enables its efficiency and provides transparency. Blockchain documentation of transactions will decrease uncertainty while using supply chain, as well as will provide greater security and protection against fraud. This topical issue will be explained in more details at the conference.
---