Australian Crowdfunding Platform: Investors Are Invited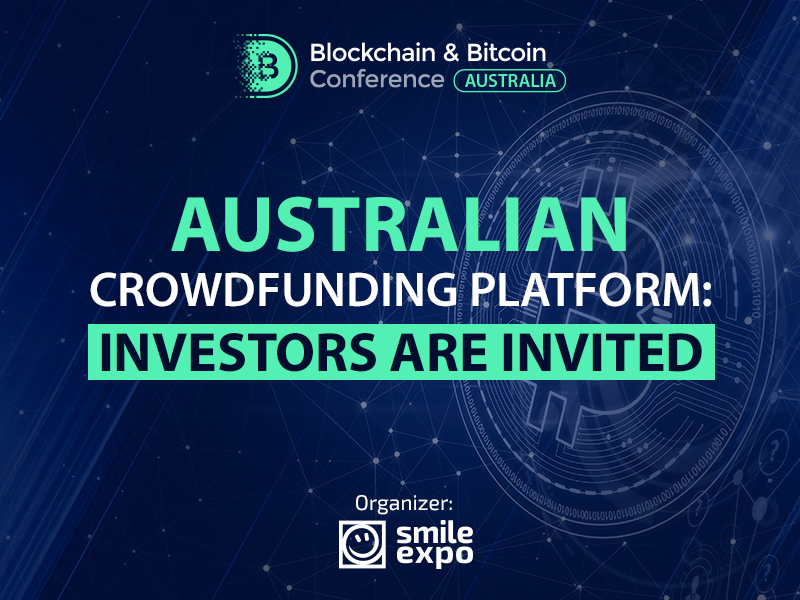 Australia has one of the best cryptocurrency business regulation and ICO launching environments. More than that, financial infrastructure is forming at a fast pace. It includes The New Payments Platform (NPP) for instant transactions between all the Australian market participants, effective interbank worldwide payment system which successfully substitutes old-school SWIFT. Apart from that, secure cryptocurrency storage methods and digital guarantees instead of letter of credits are being developed. Australian financial infrastructure also includes venture funds investing in crypto assets, precious metals and real estate tokenization and fast development of cryptocurrency trading.
Australia has become the world FinTech leader, and experts make forecasts that Australian digital economy volume will be $139 billion by 2020. The Australian Securities and Investments Commission (ASIC), the country's financial regulator, provides license to those aiming at creating internet platforms for providing financial services (which once could have been done by banks) and for ICO lunching.
Internet portal Offshore Wealth invites investors interested in possession of such a platform to start their work. Offshore Wealth guarantees AFS license, tools for projects choosing and the organization of platform's profitable work.
Infrastructure for ICO launch in Australia
Any blockchain-based project should be considered through commercially oriented investors' perception: does investment in a project makes sense? If the project seems to be promising, an investor evaluates the possibilities of its implementation into spheres which currently have appropriate infrastructures. To determine if the infrastructure is developed enough, regulations, working FinTech mechanisms and general investment environment should be considered. If all factors have positive implications, investors do not have to overcome regulations and think of technical solutions which usually takes a lot of time and money. These solutions may also not be good for other internet platforms which means that everything should be worked through from the very beginning for every blockchain-based project. However, universal blockchain FinTech solutions are being developed by IBM, Microsoft and leading banks, enabling blockchain initiatives to integrate them into their projects.
Current FinTech environment in Australia
On February 13, 2018, Australian Reserve Bank announced the launch of The New Payments Platform (NPP). It is a new payment system enabling business operators to make instant transactions, using only the telephone number and email address. With the help of digital identification by PayID which does not use the bank accounts' information, the system appears to be secure. Currently, the new system is already used by:
Australia and New Zealand Banking Group (ANZ)
Australian Settlements Limited (ASL)
Bendigo and Adelaide Bank
Citigroup
Commonwealth Bank of Australia
Cuscal
HSBC Bank Australia
Indue
ING Direct
Macquarie Bank
National Australia Bank (NAB)
Reserve Bank of Australia (RBA)
Westpac Banking Corporation
During 2018, 60 banks, Building Societies and credit unions are going to adopt the system, compared to USA, where the similar system is only getting ready to be released.
As for interbank worldwide payments, there is a lack of unity. Westpac Banking Corporation in cooperation with ANZ are launching new SWIFT system on the Hyperledger blockchain. Commonwealth Bank of Australia and NAB use Ripple blockchain-technology, helping with transaction-making with the basic cryptocurrencies. The new system will make transactions to different countries much cheaper with the simpler identification method. On the other hand, competition between banks is beneficial for clients.
The cooperation between Xpress Super Pension Fund and Bitcoin Trader operator will make Bitcoin, Ethereum, Bitcoin cash, DASH and Ripple available for Pension Fund assets investors. This cooperation makes investment process reliable and protects investors.
Then, Guardian Vaults, a company creating places for precious metals storage, has come up with an effective solution for cryptocurrency storage: investments can be transferred into cryptocurrencies and be held in the autonomous cold wallet secured by the company.
Another development in 2018 is the Apollo Capital, the first fund which works only with crypto assets and specializes on investments in ICO-launching start-ups. The fund works with investment and pension funds, payment operators, and other financial organizations.
Moreover, Westpac Banking Corporation and ANZ in cooperation with IBM are developing Hyperledger blockchain-based bank guarantees which substitute ineffective paper ones. This new mechanism will liquidate additional expenses, errors, risks and delays taking place with the paper guarantees, and will allow watching the guarantee status via programming code. Digital guarantees first will be integrated into the real estate industry, and then, their usage will slowly expand.
Possibilities of the AFS platform
As the FinTech atmosphere in Australia is positive, creation of the online platform and getting licence from Australian Finance Services (AFS) is quite easy. AFS is the financial operator which currently can perform a lot of functions previously done only by banks. Among them there are:
acceptance of deposits;
equity release and management;
financial consulting;
brokerage service;
investment portfolio management;
provision of loans with loan agreements;
money or other assets transfer;
credit and debit card release, release of digital currency and other means of payment;
finance guarantees provision;
operations with foreign currencies;
derivative transactions;
forward currency contracts management.
AFS platform can also be used as an ICO base for financing blockchain-based projects. In this case, creation, function expansion and capitalization raising will happen step by step with the use of ICO mechanisms.
AFS platform in action
According to the report «Beyond Fintech: A Pragmatic Assessment Of Disruptive Potential In Financial Services» by Deloitte, 2018 will see a fast development of online platforms working in the PaaS (Platform as a Service) regime. This kind of platforms, mainly working in countries with developed FinTech infrastructure, will become the dominant form of financial services. The demand for them will increase and, according to Global Center for Digital Business Transformation (GCDBT), almost half of businesses will experience digital transformation in the next three years. It will lead to not only the increase in the amount of ICOs but also to increase in their total turnover.
The main tendencies of ICO processes this year:
refocusing from crypto products to applications in the real sectors of economy;
the increase of the competition between ICO of the same kind for investors' attention;
the use of mixed forms of crowdfunding and venture capital in the framework of one ICO project;
ICO feasibility studies.
New AFS platform will cooperate with other online platforms in Australia in order to:
provide algorithmic procedure for projects evaluation and ASIC requirements check;
protect investors and apply Anti-Money Laundering and Counter Terrorism Financing (AML/CTF);
provide access to due diligence и feasibility studies instruments for investors;
provide system of legitimate rights of ICOs.
In 2018, ASF platform will apply three-step algorithmic filtering system developed by Global Blockchain Institute. The reason for this is that currently investors tend not to take risks but to rely more on logic and projects' implementation evaluations. The first applied filter will deny projects which do not provide any additions to currently used business models or do not suggest any new solutions. The second one will determine the project's general value for users which will include evaluation of the personalization value. The third filter will evaluate project's prospects and risks, taking marketing situation and regulation system into account.
This way, the platform will not only reduce the amount of projects that do not follow requirements, but will help promising projects to develop.
Please rate this news:
(111 votes, average: 3.67 out of 5)