Blockchain Mining Will Become an Easy Process: Stefano Virgilli, CEO at VOX.sg, Will Make All Processes Clear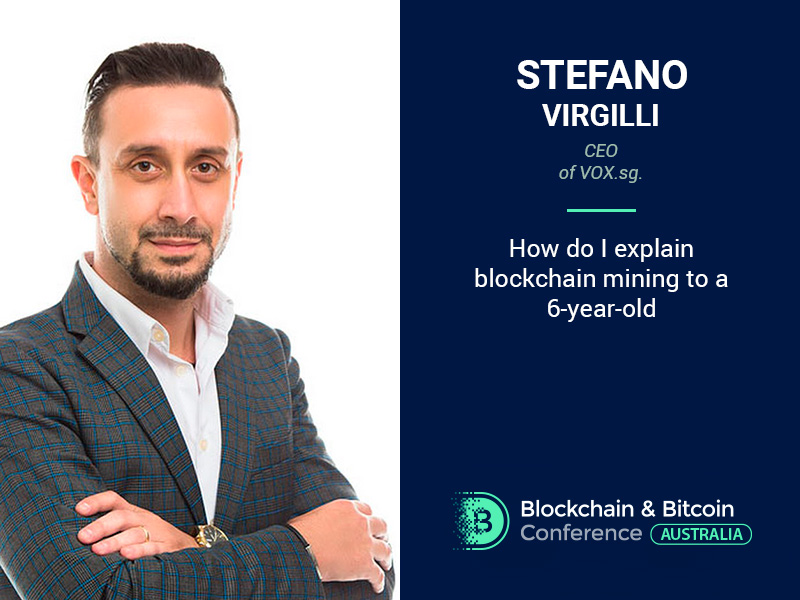 Mining is gaining popularity and more people want to join it. At first, the process may seem complicated and may raise general questions regarding security, cost and complexity. In the framework of the Blockchain & Bitcoin Conference Australia, Stefano Virgilli, CEO at VOX.sg, will deliver a presentation "How do I explain blockchain mining to a 6 years old", clarifying the process.
Main points of the speech:
processes as SHA256 encryption and hash calculation in simple terms;
advantages for the stakeholders and the benefits in terms of cybersecurity;
advantages of peer validation in financial transactions;
how traditional cybersecurity differs from blockchain security;
and blockchain security;
gauging cost of transactions in blockchains like BitCoin;
how to prevent replicability;
blockchain expansion outside the financial sector.
Stefano Virgilli is an Italian entrepreneur, expert in innovations and advisor for ICO projects. He has been working in multicultural environment with his clients for twenty years, and he currently operates the business in Europe, Southeast Asia, Middle East and Africa.
The speaker is also a CEO at VOX ICO Consulting. Apart from that, he regularly writes for the Oman Observer and contributes to Redacon. At this moment, Stefano is working on his second book where he will describe the influence of different cultures on the way business is developing from his experience. More than that, he is a TEDx speaker, and an Adobe trainer with more than 80 certifications.
---
Meet the speaker and get answers to your questions at the conference!
Please rate this news:
(85 votes, average: 3.7 out of 5)