Blockchain & Regulations Now and in the Future: Adrian Cartland, Principal at Cartland Law, Will Share Knowledge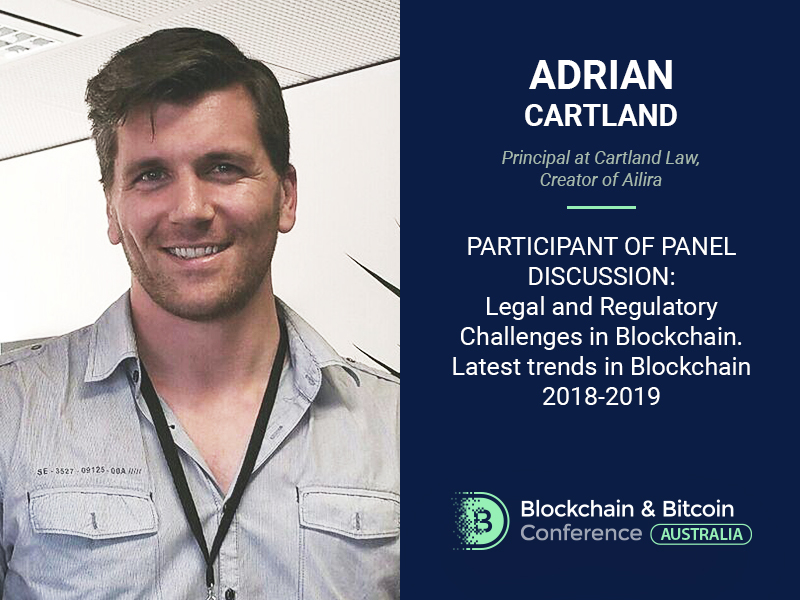 Blockchain technology is currently being implemented into a lot of spheres: from financial transactions to healthcare and other services. However, the more it develops, the more challenges and legal issues it starts to face. What is currently going on and is waiting for blockchain in the future? In the framework of the panel discussion "Legal and Regulatory Challenges in Blockchain. Latest trends in Blockchain 2018-2019" at the Blockchain & Bitcoin Conference Australia, Adrian Cartland, principal at Cartland Law, will give an insight together with the other speakers.
Main points of the discussion:
blockchain environment in Australia;
regulatory and legal side of blockchain: ICO, smart contracts, IP issues, decentralised economy;
effect of regulations on the existing ecosystem and the social fabric of economy.
Adrian Cartland is a lawyer expertizing in laws concerning taxes. He is a specialist in ensuring tax laws proper application, creating the comfortable environment for taxpayers and businesses.
The speaker is the principal at Cartland Law where he provides commercial advice. Adrian helps solving different complex tax problems and issues. He is also a creator of Ailira, a project which offers information covering various legal issues using artificial intelligence.
---
Meet Adrian Cartland and look into the blockchain's future at the conference!
Please rate this news:
(80 votes, average: 3.69 out of 5)