How Bitcoin Cash will influence the future of bCommerce? Get answer from the Chief Executive Officer at nChain Group Jimmy Nguyen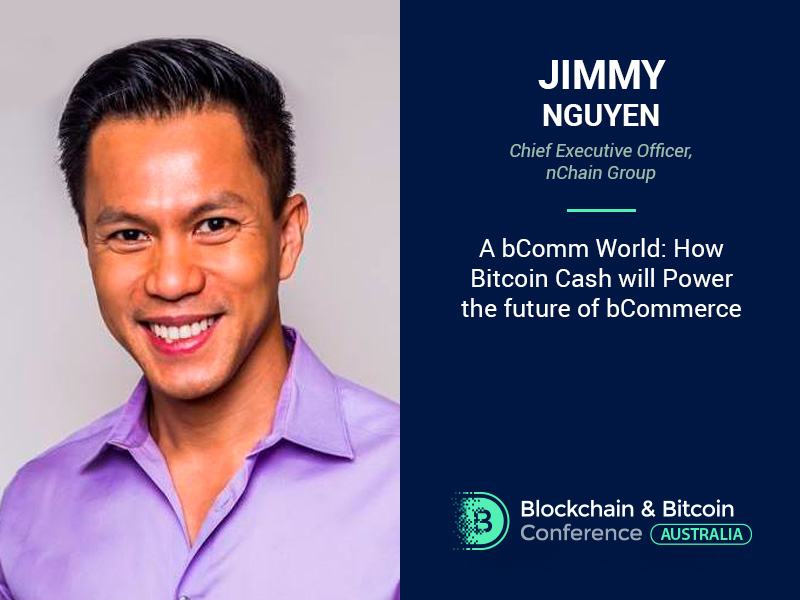 Jimmy Nguyen, the Chief Executive Officer at nChain Group, will speak at Blockchain & Bitcoin Conference Australia.
The topic of his report is 'A bComm World: How Bitcoin Cash will Power the future of bCommerce'.
bCommerce is a world with a global payment system, low commission, fast transactions and a possibility to send money to anyone and anywhere.
Key theses of the report include:
On-Chain Scaling through Bitcoin Cash;
Security Improvements;
Merchant Adoption;
Better User Interfaces;
Sensible Regulation.
Jimmy Nguyen joined nChain after a 21-year career as a lawyer in the field of intellectual property and digital technology. During his private career, he was a partner at three major US law firms. Mr. Nguyen represented international corporations in various industries, including the technology, entertainment, media, sports, finance, commerce and automotive industries.
Mr. Nguyen has a number of awards and titles. He was acknowledged by the Century City Bar Association as the Intellectual Property Lawyer of the Year, ranks among top 500 Leading Lawyers in America according to Diversity MBA Magazine.
---
Please rate this news:
(67 votes, average: 3.69 out of 5)