How do blockchain solutions create trust? Get answer from Pandu Sastrowardoyo at Blockchain & Bitcoin Conference Australia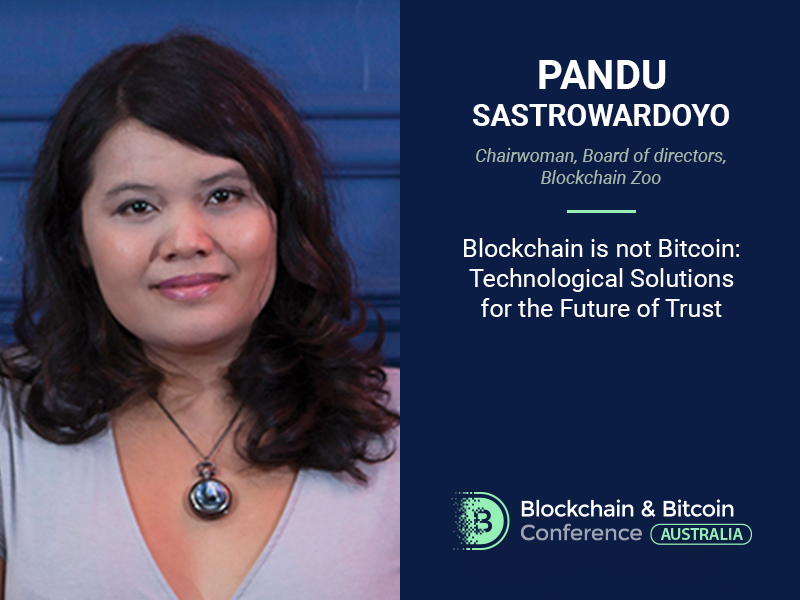 Blockchain refers to the technologies that will change the near future as radically as the Internet. Blockchain solutions that can be used in business and public sector will be covered within Blockchain & Bitcoin Conference Australia by Pandu Sastrowardoyo, the chairwoman of the board of directors at Blockchain Zoo.
The topic of her report is 'Blockchain is not Bitcoin: Technological Solutions for the Future of Trust'.
The speaker will focus on blockchain solutions for business and public sector. She will tell about blockchain products that are already used by enterprises in various industries, as well as by the public sector.
Pandu Sastrowardoyo has many years of experience in the largest IT companies. For the last 7 years she has worked in IBM as a Technical Solutions Manager, Group Manager at PureSystems, a Territorial General Manager for managed services in Indonesia.
She introduced Blockchain technologies to a number of institutions in Indonesia, including the Regional Development Bank (BPD) and the Indonesian Financial Services Authority (OJK).
---
Please rate this news:
(56 votes, average: 3.7 out of 5)