How to Treat ICO? Co-founder of Entersoft Security ICO Will Reveal an Answer at the Panel Discussion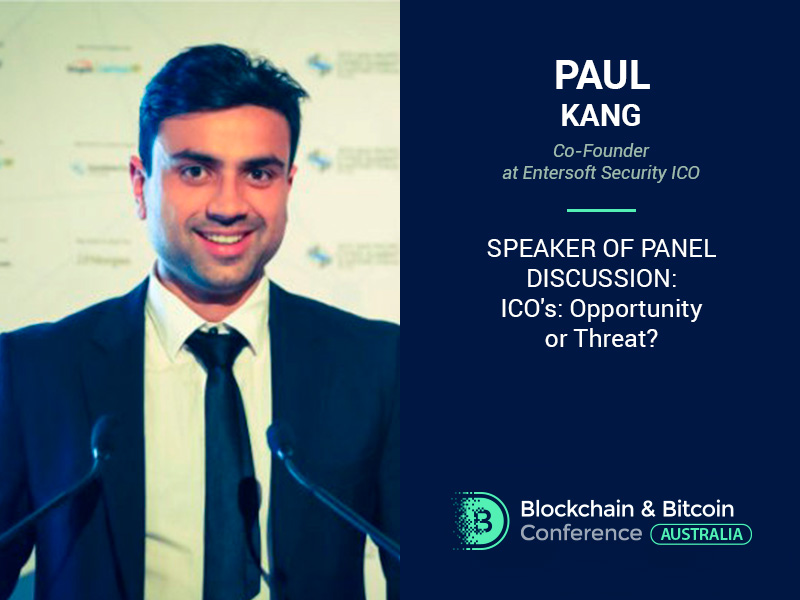 Blockchain technology is changing the world, and ICOs do too. To develop the technology more and bring it on the higher level, it is important to understand all kinds of effects it has. During the panel discussion "ICO's: Opportunity or Threat?" at the Blockchain & Bitcoin Conference Australia, Paul Kang, the co-founder of Entersoft Security ICO, will talk about the issue with other speakers.
The panel discussion will look into the ICO legislation and the reasons for it as well as the ICO's role in economy in general. Speakers will share knowledge on how ICO is treated in different countries and provide suggestions for moving forward.
Paul Kang is a co-founder and director of Entersoft, a start-up focusing on security providing. More than 300 organizations used Entersoft to build secure and reliable applications. The company has an expertise in proactive monitoring, anti-phoshing, social engineering and cryptocurrency exchange security audits. Its services can ensure cloud security, and scam monitoring.
The expert is also a mentor at River City Labs, a company which works on uniting technological start-up projects by providing a space for coworking. Apart from that, Paul is an executive committee member at Australia India Business Council, a non-profit organization for establishing positive trade relations between these two countries.
The speaker and his company has already received a lot of international awards. Among the latest there are 2017 Hong Kong Fintech of the Year and 2017 Australian Fintech Awards - Excellence in Cyber Security.
---
Get acquainted with the co-founder of Entersoft Security ICO!
Please rate this news:
(107 votes, average: 3.69 out of 5)