ICOs: Scam or Great Possibilities? Prashant Surana Jain, Co-founder of Snapper Technologies, Will Answer the Question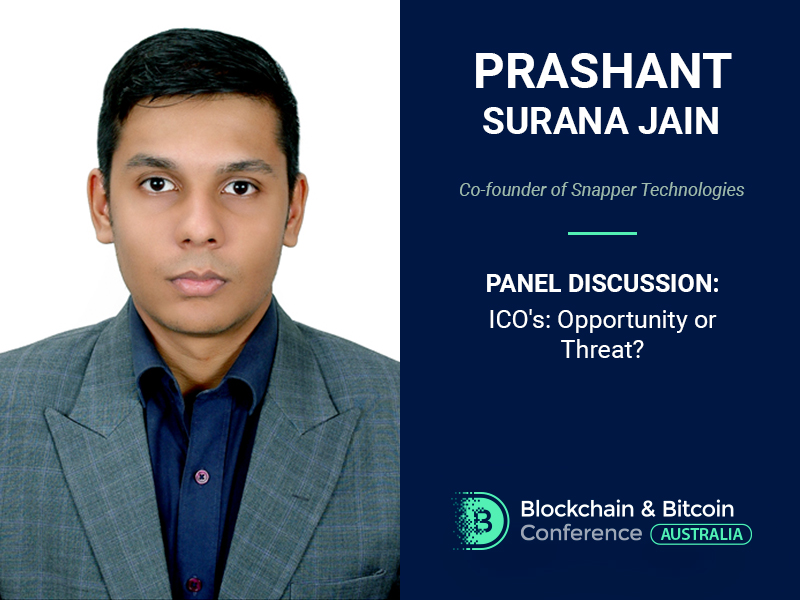 Initial coin offerings help start-ups to raise capital and are considered a positive thing. On the other hand, some of them are scams and lead to loss of money. Keeping this mind, there is the question "how to treat ICOs then?" In the framework of the Blockchain & Bitcoin Conference Australia, Prashant Surana Jain, co-founder of Snapper Technologies, will participate in the panel discussion "ICO's: Opportunity or Threat?" and will present views from both sides.
Main points:
scams causing disruptive legislation;
ability of ICO's to threaten the traditional economy;
macro and micro impacts to the economy;
different views of ICOs in different countries;
how to create a community and move forward.
Prashant Surana Jain is an entrepreneur and futuristic technologies expert. He specializes on implementing blockchain artificial intelligence, launching ICOs and creating cybersecurity in different industries. He is engaged in e-governance, cooperating with different Government Departments in India.
Currently, the expert is working in Snapper Technologies, where he was a co-founder. The company is the most well-known and promising in India's technology and innovation environment. Apart from that, Prashant is also a co-founder of Cryptbuzz, the largest cryptocurrency media corporation in India, and a co-founder of World Gaming Coin, the first regulated gaming and casino platform with more than 1 million players in the world. The speaker also contributes to the work of Global Blockchain Association where he has a position of advisor and coordinator.
---
Don't miss a chance to meet with the speaker and learn more about ICOs at the conference!
Please rate this news:
(82 votes, average: 3.7 out of 5)