John Bassilios – new participant of panel discussion at Blockchain & Bitcoin Conference Australia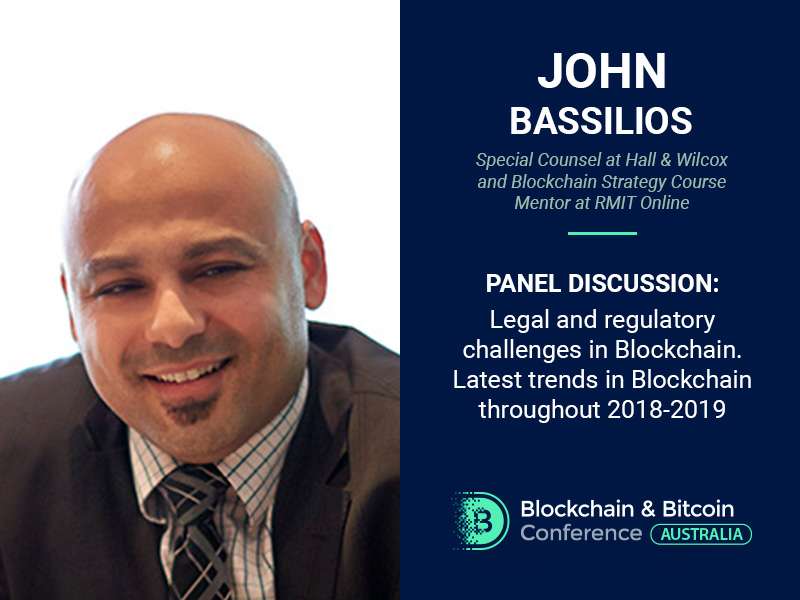 While all of us witnessed the success of ICOs in 2016 and 2017, the upcoming years will see the trend of blockchain being introduced by different countries in their legal environment. The latest trends in the blockchain industry regulation will be highlighted by John Bassilios, a Special Counsel at Hall & Wilcox and a Blockchain Strategy Course Mentor at RMIT Online, at Blockchain & Bitcoin Conference Australia.
The speaker will participate in the panel discussion titled "Legal and Regulatory Challenges in Blockchain. Latest trends throughout Blockchain 2018-2019".
Together with other experts, he will discuss the current state and prospects, regulatory issues of ICO conduct, regulation of cryptocurrency operations, development of the decentralized economy in Australia.
John Bassilios is a professional in the fields of financial services, corporate and commercial law, as well as banking and finances.
The speaker has advised employees of a number of financial companies including retail and wholesale fund managers, investment advisers, financial planners, stock brokers, IDPS operators.
John has advised organizations on investment management, AFSL licensing, disclosure requirements, and ongoing compliance with regulatory requirements, as well as in relation to the establishment and development of various financial products.
John is a member of the Law Institute of Victoria, member of Finsia, and graduate of the Australian Institute of Company Directors.
---
Please rate this news:
(99 votes, average: 3.7 out of 5)