Mining in 2018: How to Start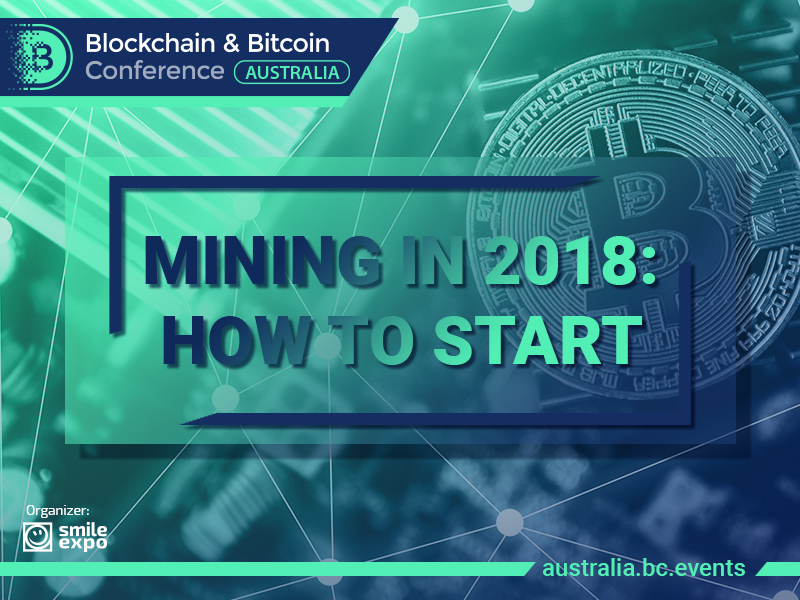 Mining cryptocurrency has become a quite popular activity by today. Getting digital coins this way doesn't require a lot of hard work but there are a lot of things to keep in mind before the start. For example, it is important to have an understanding of the way mining looks in 2018, what updates there are and if it is profitable at the present moment. Let's see.
What has changed in 2018?
Mining today causes debates. Some people believe that it was necessary to enter the market 5 years ago, others say that it's never too late. Well, the success depends on the capital you have and coins you choose.
Bitcoin mining as well as mining of other well-known altcoins like Ethereum, Monero or ZCash is now available only for big market players due to the mining difficulty. If you are a beginner and you want to use your computer for mining, it is better to start with the less known altcoins.
Is starting mining in 2018 worth it?
YES:
if you have a big capital to invest, you can mine profitable coins;
if you determine promising coins right, you can be successful in the future.
NO:
mining difficulty has risen;
rewards for mining have become less;
high risks due to unstable currency rates;
effective mining equipment is expensive;
mining equipment becomes outdated too fast;
some regions have high electricity rates.
If you decide to start mining now, consider the most promising ways and equipment.
Graphics cards mining
This way is the most popular among miners: graphics cards have reasonable price and can also be used for other activities except mining.
If you want to start mining using graphics cards, one of them will not be enough: you should create a mining farm. Remember: the more cards you have and the more powerful they are, the more profits you will get. But keep in mind that the expenses for electricity will rise as well as the equipment noise will be louder.
Caption: Graphics Cards Farm
The best graphics cards for mining in 2018 are:
AMD — RX 580, 570, 480, 470;
Nvidia — GTX 1060, 1070, 1080 Ti.
RAM of 4 GB, motherboard with 4 RAM slots and SSD hard drive are recommended for the most effective mining.
ASIC chips mining
ASIC chips are used for popular digital coins mining a lot, and as Bitcoin can only be mined using ASICs, this equipment will stay important in 2018.
While choosing ASIC chips, you should pay attention at:
hashrate;
level of electricity consumption;
price.
Usually, when popular cryptocurrencies rise in cost, ASICs become more expensive as well. however, most of them pay off in half a year.
New updated versions of ASICs are being released very frequently, and the price for the most powerful ones starts from $1300-1500. In 2018, Bitmain is to release Antminer S10 and S11, which are going to be popular. Also, in March, Halong Mining released the most effective Bitcoin mining equipment in the world —DragonMint 16T which is 30% more effective than all the other existing ones.
Caption: DragonMint 16T
However, ASIC chips have drawbacks as well:
you can't use them for anything else;
if they get outdated, you can't sell it;
they are only for one mining algorithm which you can't change while graphics cards farm can be reset for most profitable coins at the moment.
Cloud mining
This kind of mining is good for beginners as you don't have to understand the principle of eqipment's work. For cloud mining, you just buy CPU power from special centers and get your coins. These centers use their own equipment for mining, and you just pay them their expenses back from your profit.
Most of the time, cloud mining is used for getting Bitcoin, Litecoin, Ethereum, ZCash and Dash. When you sign up on the special server, you choose the contract most appropriate for yourself. The best one is for one year since it pays off in 4-6 months.
Cloud mining YES:
You can start mining even if you don't have a big capital. Most of the contracts are accessible from $1.5 – 2.
Cloud mining NO:
Some services are not reliable and just disappear over the time which leads to money loss. The most trusted cloud mining servers are Genesis-mining and Hashflare.
Mining in 2018 step by step
So, you have decided to start and you know what capital you have. Great! What is next?
Choose a way of mining
If you chose cloud mining, find out the best server for yourself.
If you chose getting your own equipment, analyse how effective it is (consider how fast you will get your investment paid off).
Choose a cryptocurrency for mining (think about its profitability and the power of your equipment).
Find a pool to join.
Choose a mining software, install and set it for yourself.
Create a cryptocurrency wallet where your mined coins will be sent.
With time, mining has become more difficult and expensive, and some people think buying coins brings more profits. However, if you choose a right equipment and analyse the market before you start mining, the possibility of future success is still high.
Please rate this news:
(96 votes, average: 3.68 out of 5)