Top 5 cryptocurrencies: what does attract investors' attention in 2018?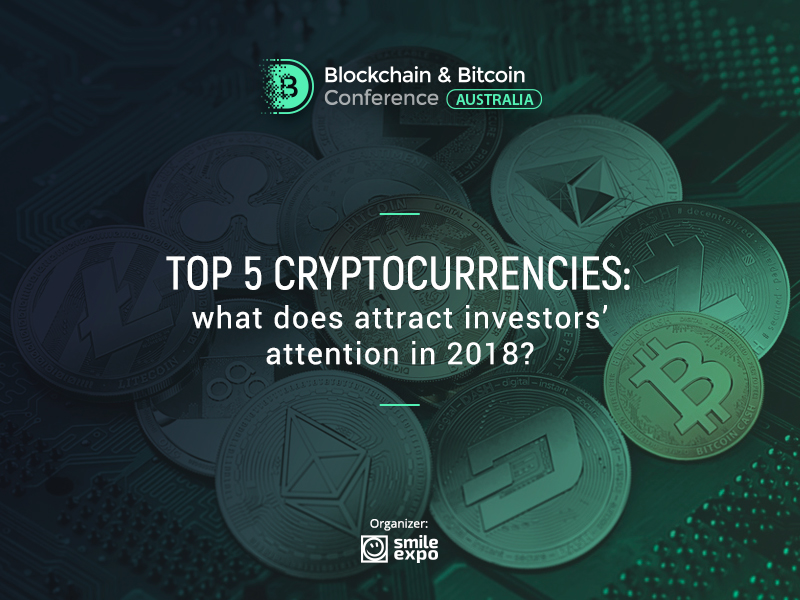 In 2017, the cryptocurrency market became a gold mine for many investors. Currently, the total capitalization of the digital asset market is 80 billion dollars, and the daily traded value is about 5 billion dollars. Capitalizations of certain assets are quite different: for instance, Bitcoin has more than $191 billion, Ripple features around $36.5 billion, while Decision Token reaches approximately $54 million. However, all cryptocurrencies are pretty volatile and respond to market falls and growth. The market faced a major rise in autumn 2017 and a downfall in 2018: Bitcoin went up 20 times (from $1000 to $20 000) and then depreciated almost up to $6000 from January till December 2017; Ethereum rose from $10 to $1200. Now, the exchange rate of the latter is $850.
Experts doubt that the twentyfold Bitcoin growth will be repeated; a lot of people believe that it is close to its peak. Nevertheless, the majority of investors keep acquiring Bitcoin and other assets of the top 5 cryptocurrencies list. So, what is the secret of their popularity?
Why investments in top coins are profitable
The main reason for top coins being appealing for investors is their relative reliability. Obviously, all virtual coins are subject to plummeting and slumping of the exchange rate and their stability can't be compared with conventional assets. However, top crypto coins are included to the list because of being supported by the operating infrastructure, which is a driver of their rate and a guarantee of relative stability. And this fact is impossible to relate to new altcoins.
Top 5 most trusted cryptocurrencies among investors
Bitcoin
Bitcoin is the world's first cryptocurrency and the most expensive one as of today. Confidence in Bitcoin, as well as in its price, grows day by day. Now, the asset rate is $11.5 thousand. Several payment systems and services are based on Bitcoin; dozens of companies worldwide accept it as a payment method. Currently, the Bitcoin turnover includes 16.9 million, while the total trade turnover is more than $2.5 billion.
Ethereum
In 2017, currency of the Ethereum blockchain platform grew from $10 to $1200. It is caused by the activity of the platform that has expanded its functionality, integrated several upgrades, and become the basis for dozens of blockchain projects. Nowadays, the Ether rate is about $850. Despite the December fall, ETH tokens are predicted to have great prospects in 2018 (Medium), as the platform keeps developing.
Ripple
Ripple is a cryptocurrency payment system aimed at currency exchange operations without chargebacks. The Ripple price is around 1$, but the project capitalization reaches more than $36 billion due to the higher emission of tokens. The asset is expected to show a huge growth, because Ripple has started cooperating with several major banks early in the year.
Litecoin
Litecoin is a fork of Bitcoin. It is a peer-to-peer electronic payment system based on the same-name cryptocurrency. Litecoin is a single-rank online currency featuring almost zero-fee payments anywhere in the world. The exchange rate is $212. Blockchain is even more advanced as its predecessor. Besides, it is testing some important technological solutions applied in Bitcoin as well.
Monero
Cryptocurrency based on the CryptoNote protocol is designed to protect transaction information. Despite the fact that its currency is frequently associated with illegal deals, it provides users with something Bitcoin fails to offer: anonymity. The recent price is $359.
Basic rules of cryptocurrency investments
If you make a final decision to add digital assets into your investment portfolio, read the main rules for cryptocurrency investors.
♦ Prior to investing, you should improve your technical competence.
Primary computer skills are an obligatory condition for safe investments. If you don't realize the concept of computer operations, think twice before investing in this area.
♦ Portfolio diversification is a crucial aspect on the cryptocurrency market.
All cryptocurrency investors should know that even the most promising projects can fail, thus it is better to be overcautious.
♦ Be ready: you will have to wait pretty long.
One recommends to plan investments in cryptocurrencies as a long-term activity with the simple Buy & Hold strategy. You should be ready to tie up your money for at least 3 years.
♦ If everyone wants to buy something, don't buy it.
It is better to acquire an asset when it starts and keeps falling until its growth.
Please rate this news:
(96 votes, average: 3.7 out of 5)